Yay! The Colonel finally might get rescued from The Men in Black!
I'll reveal the origin of Colonel O'Hara's service number in HAFT#112; no one probably would ever guess it except OboeCrazy, who has been out-of-town. I was researching the history of dog tags and in particular what Navy tags look like, because I wanted B's dogtag to look semi-regulation: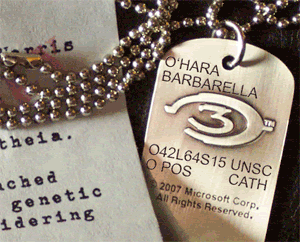 So, that is Last name, First name, Service Number, Blood Type, Military Branch and Religious Preference (hey, her name is O'Hara, so why not?). Evidently over the years the Service Number has gone from a kind of code that described what branch of the armed forces you were in (Army! Navy! Air Force! Marines!) and then switched to the social security number. At some point when it was a code, if you were an officer it would start with the letter "O". So… hm… what word do I know that starts with the letter "O"….? Wait, I know! OboeCrazy's Halo Tag Number is presently "O42". Mine is "L64" and my son is "S15" So there ya go. Live as you have never lived before!