About Halo Action Figure Theater
I (Elnea) just couldn't control myself from taking photos of my son's Halo Action Figures once the Limited Edition Pink Spartan Action Figure finally became available. The old doll-house building instinct of my youth just kicked in and wouldn't let go. Eventually my own collection surpassed his and it all went downhill from there.
The majority of the action figures featured are from the 6″ and mini-Halo series of toys by Joyride. The Spartan Barbie is a custom doll I built out of Barbie parts, acrylic molding paste and paper clay. Chuck Norris is a custom resin head on a GI Joe body. Cameos of other Halo figures include the ActionClix series, the mini McFarlane figures that came with the collectible 360 controllers and the Kubrick Halo figures. The "Mysterious Man" is a McFarlane figure called "Man of Miracles". Other action figures are from my personal pop and scifi collection. Many of the miniature props are handmade. If you have questions about any of the dolls or props used in in HAFT, feel free to e-mail me. Although I've occasionally had to do an after-effect like greenscreening or digitally removing fishing line used for suspending the figures, I try to photoshop HAFT as little as possible, as much of the fun of doing the series is setting up the dioramas in real space and time.
The cats are Mazha and Sparky. They can't keep away from a set.
Portrait of Elnea, by Luke McKay: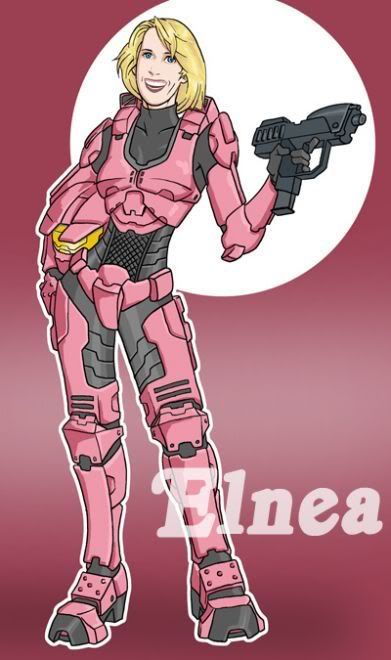 Halo Action Figure Theater is a work of fiction. Any resemblance between the characters herein and real persons living, or otherwise, is purely coincidental. Halo, the Halo characters and the Halo universe are the property of Bungie and Microsoft; the content of this site is solely for entertainment purposes and no copyright infringement is intended. Additionally, I'd like to acknowledge that Chuck Norris is completely awesome and I would never intentionally do anything to make him mad at me. -Linnea a.k.a."Elnea"